Fencing
picket
styles
A picket fence is a great way to define a property border and enhance the look of your home. It's great for families who want to confine kids or pets but keep a visually open feel. Choose from traditional white picket fences to more contemporary styles—go bold and add color to match siding, stone, or even house trim colors. The Vinyl Answer works closely with a network of professional fence installers, and we can fabricate your fence to follow even the steepest grades in our neck of the woods! Don't see the style you're looking for, or you want to design your own style? Just ask a design consultant from The Vinyl Answer and we'll make sure we can fabricate exactly what you want!
The Bailey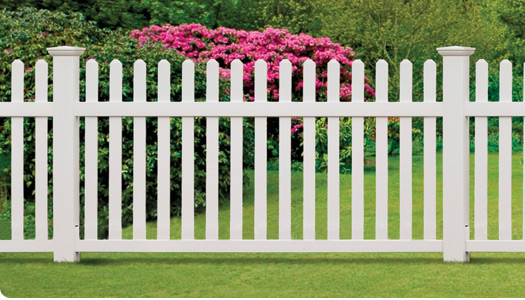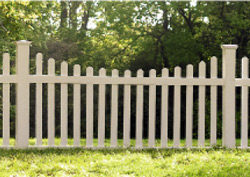 As American as apple pie, the white picket fence never goes out of style! Choose straight top or scalloped to complement the style of your home. Either style can have dog ear pickets or spade top pickets shown lower left.
Available in White, Almond, Khaki, Red Cedar, and Wicker.
The Monroe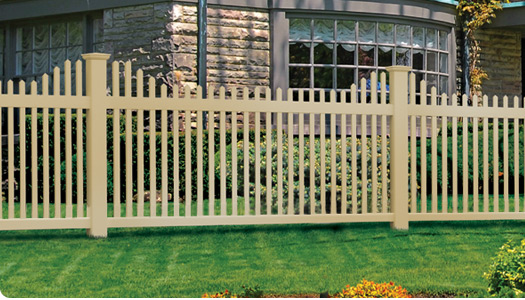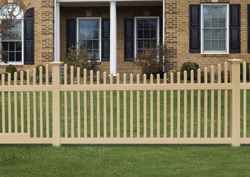 The Monroe is a narrow picket style that works well with both traditional and contemporary home architectures.
It is also available in a straight top and as a traditional scallop — or in a square scallop. With a smaller picket gap than The Bailey, it works better for containing smaller animals.
Available in White, Almond, and Khaki.
The Newhart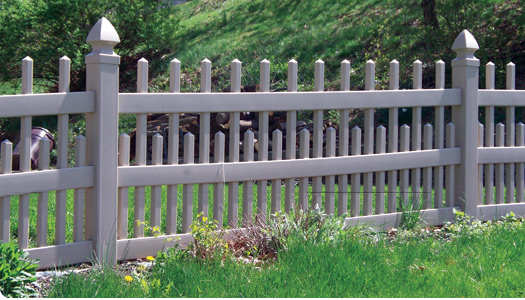 The Newhart is a very unique style that works well with virtually any style of home. It has the traditional New England look of The Monroe with a contemporary twist of alternating picket heights.
Because of the very narrow picket gap on the shorter pickets, it performs well with miniature dog breeds.
Available in White, Almond, and Khaki.